Dear CAMA Members and Friends,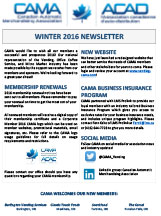 We invite you to take a look at our Winter Newsletter which highlights key projects that we've been working on to better serve our members and the industry. It's an exciting time to be a CAMA member! We also encourage you to visit our website, LinkedIn, and Twitter feeds for year round updates on CAMA and industry news.
This issue's highlights are:
2016 Membership Renewals

New Website

Business Insurance Program

Social Media

Upcoming Events
---
Cher membre et ami de l'ACAD,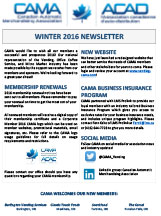 Nous vous invitons à consulter notre Infolettre de janvier qui met l'accent sur les projets clefs sur lesquels nous avons œuvrés afin de mieux servir nos membres et notre industrie. C'est une excellente période pour devenir membre de l'ACAD. Nous vous encourageons à consulter notre site web redessiné, et les médias sociaux tels LinkedIn et Twitter pour être au fait de toutes les dernières actualités.
L'infolettre de janvier traite de:
Le renouvellement de votre adhésion 2016-01-20 Le nouveau site web

Le programme d'Assurance d'affaire

Média sociaux

Les événements à venir